In working with the histories of enslaved ancestors, one comes to the questions of survival and resilience in the face of all that bondage could entail. The mid-nineteenth century world of a rural hacienda in Puerto Rico where a young African woman is enslaved, is recreated in the pages of Dalma Llanos Figueroa's 2022 novel, A Woman of Endurance.
It is an incredibly moving book that takes one through moments in her life, the episodes of violence and trauma, of learning, caretaking and trusting in a world hostile to recognizing the full humanity of the labor that built it. There is the potential for violence at every turn.
We glimpse the lives of the women who are working for the big house in different capacities, and Pola makes a transition from working the fields to the sewing room. This and other events ripple through the groups whose lives are not under their own control. Through the figure of Pola, there is healing. Community and love, however vulnerable it may make a situation, is what helps one survive.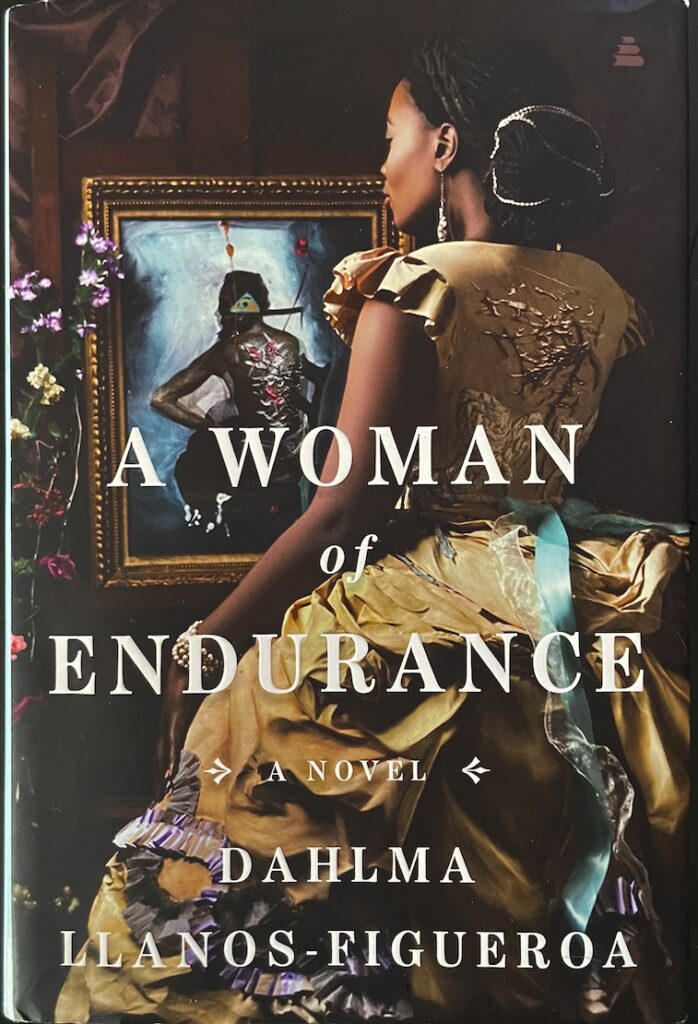 The story of Pola takes us through an experience that replicates the experiences of many enslaved women. In Yorubaland, West Africa in 1831, Keera, a very young woman comes to know of her power from her mother. After surviving the Middle Passage and assaults, we come to know her as Pola, with this brief glimpse of life before capture and enslavement in a flashback. The vision comes while she recovers in another hacienda.
Llanos-Figueroa recreates this world vividly, with descriptions of situations that do not shy from the violence of losing children, or finding love and understanding in the middle of a forced labor camp.
Note the cover art, a woman in a silk dress with a pattern on her back that echos the pattern of scars on the back of a painting of Gordon, who served as a Sargent in the Louisiana Native Guards during the Civil War. The painting is based on the cabinet card photo where he reveals his back, and the arrangement of painting, flowers, beads and symbols suggest this is an altar that honors Gordon's experiences as an ancestor. The fabric of a life.
This is one of the most incredible novels i've read, and on my list of key texts for our times.
Available in Spanish as Indomitable. Amistad Publishing.
You can visit the author's website here: https://www.dahlmallanosfigueroa.com where there are excerpts of the novel available in Spanish & English so you can check it out.