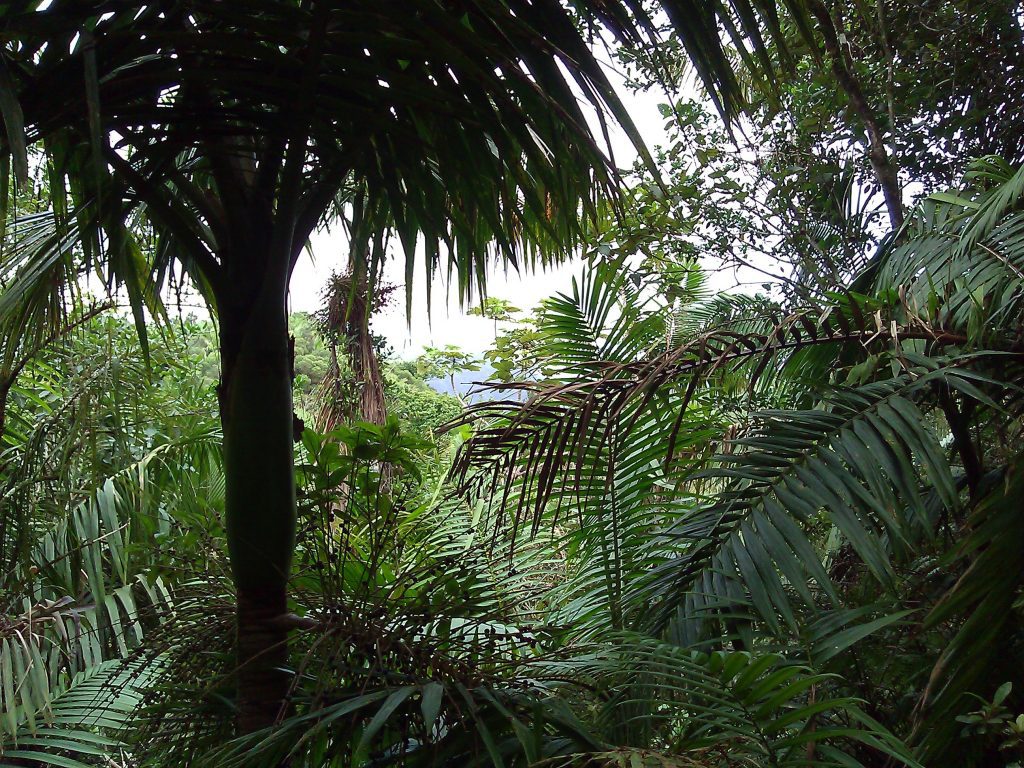 The search for my great great grandfather Telesforo Carrillo began with a fiction of sorts, created by his death certificate of 1920. Here the gap between who he was when he started and who he was at the end of his life widens.
In his death certificate, both a baker and a plumber witnessed the testimony of the informant, his son in law, my great grandfather Juan Fernandez Quinta.
He gave details that led nowhere unless one followed the women. I suspected my great grandfather Telesforo might be an hijo natural, a birth deemed illegitimate by law. With his mother listed as Maria Carrillo, the name Maria yielded nothing, so I set it aside until I could find records that encompassed their lives. A century later, this mosaic of relationships becomes a little clearer.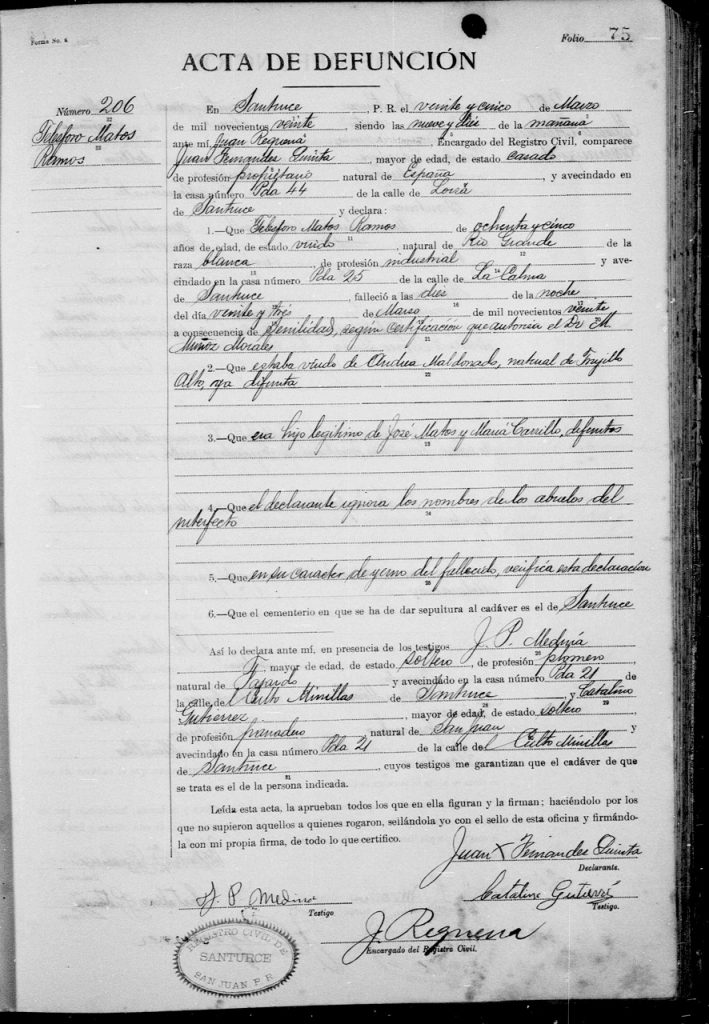 Telesforo Matos Ramos
F75 #206 im 742
25 Marzo 1920
Declarante: Juan Fernandez Quinta, casado, proprietario, natural de Espana, casa Num pda 44 de la calle Loiza, Santurce, yerno
natural de Rio Grande, vecino de Santurce
85, blanco, industrial, viudo de Andrea Maldonado, natural de Trujillo Alto, ya difunta
avecinado pda 225 Calle La Calma
causa: senilidad, 10PM 23 Mar 1920,
hl Jose Matos & Maria Carrillo difuntos
que el declarante ignora los nombres de los abuelos del difunto
Testigos: JP Medina, plomero, nat Fajardo & Catalino Gutiérrez, panadero, San Juan Encargado RC: Juan Requena
The search that never ended
Why was he listed as Matos Ramos? Did my great grandfather misstate his father in law's name, or did the secretary manage to be distracted and simply entered 'Ramos' on the margin? At the end of Telesforo's life, his parents appear as Jose Matos and Maria Carrillo, both long gone, and that he was their legitimate child. What I eventually learned was much more complicated. With all of the name changes over the decades for his daughter Catalina, my grandfather's mother.
For a very long time I turned nothing up on Telesforo, so instead I searched records up his grandson, my grandfather, Ramon Fernandez Matos, born in 1900. When I was little, his birthday was celebrated at the end of August, or rather, he celebrated it with his friends. That date didn't come up in the Registro Civil, and neither did the name.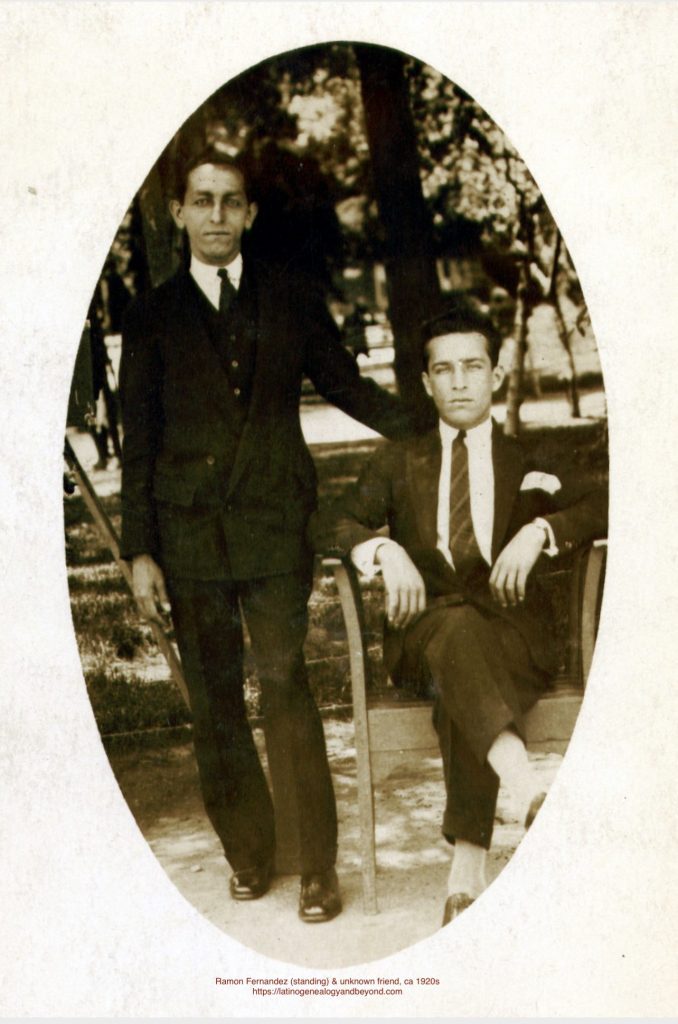 Just a month ago, I decided i'd try searching with the Carrillo name, and, lo and behold!! He turned up as Ramon Fernandez Carrillo, and the birth certificate that eluded me for so long finally came up, along with that of another sibling. Oddly enough, Telesforo and Catalina's previous son, Andres, appears as Andrea Fernandez Matos, with his maternal grandparents listed as "Telesforo Matos y Andrea Maldonado de San Juan."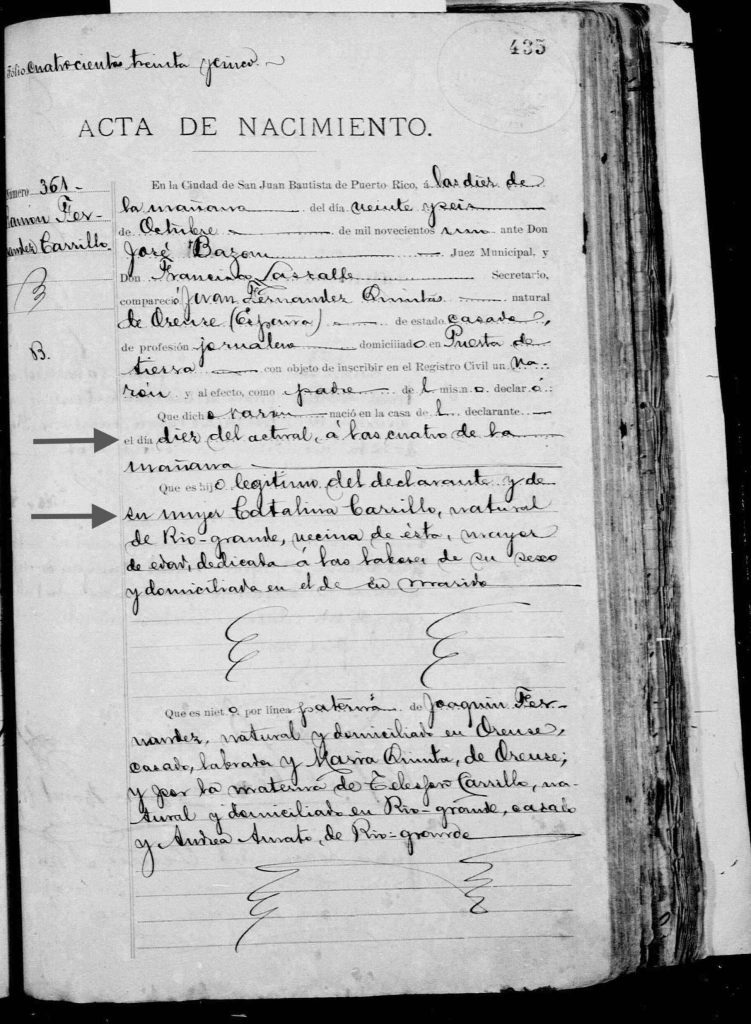 Catalina's Trail
As an adult, my grandfather Ramon used Matos as his maternal surname. I had never heard of Carrillo until I started tracing his mother, my great grandmother, Catalina (1862-1966). She too had several surnames at different times in her life, and it's still unclear if the additional uses provided some kind of protection or cover for her.
She appears as an hija natural of Andrea Maldonado in the baptismal record of May 1862 from Nuestra Señora del Carmen, Rio Grande⁠1. She was the first of Telesforo and Andrea's 13 children, once a costurera, a dress maker who actually cut and made men's suits in San Juan. She grew up in an area of Santurce that was full of skilled artisans and workers, Barrio Obrero. Telesforo Carrillo was a carpintero, a carpenter and laborer still working the year before he died in 1920 at 75 years of age.
A Glimpse of Youth
Recently my cousin, genealogist Maria Kreider sent me a link to an early record for Telesforo, who turned up in the 1850 Padron de habitantes for Rio Grande. Filmed by the LDS in 1987, this census record comes out of the AGPR's (Archivo General de Puerto Rico) collection of municipal documents, here the Alcaldia Municipal for Rio Grande. The files consist of two Cajas, A and B; Caja A holds Cédulas de vecindad y padrones Caja A 1860, 1871, 1875, 1880, 1882, 1888, 1898 Caja B 1860-1870. In 1850 Rio Grande was a recent municipality founded in 1840, when it split from Loiza. It was named after the river that joins the Rio Espiritu Santo in North East Puerto Rico, perched between the northeastern coast and the Sierra Luquillo mountains⁠1.

In 1858, he lived in Barrio San Francisco, which was a portion of the town that has since been renamed. In December 1860, he was living with his grandmother, Agustina Carrillo Santiago, 78 years old as head of household, and he appears as Telesforo Carrillo, 18 years old, working as a laborer. The other person living with them was Estevan Pinto y Estrada, a 75 year old widower. None were literate.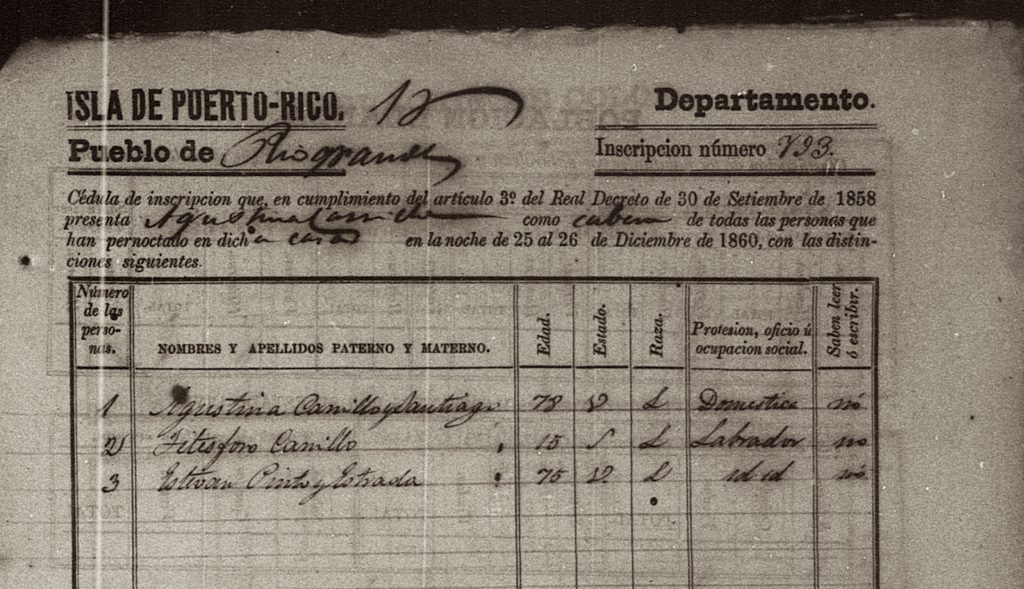 The next page is even more illuminating.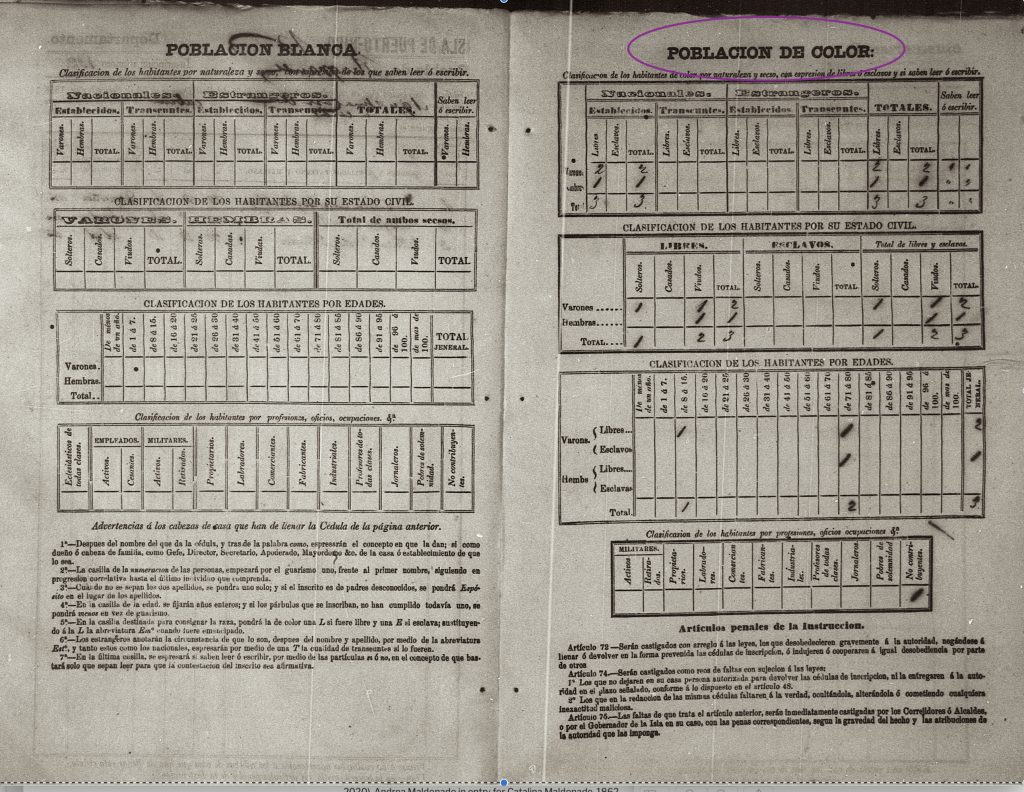 This was a household of Free People of Color, two of them widowed, all born on the island. What I learned about Augustina is that at an advanced age, she took care of her grandson, Telesforo, not yet the legal age of adulthood. His youth meant that her daughter, Maria Ysabel Carrillo, had already died- she does not turn up in this series of documents. So far, the man listed as Teleforo's father, Jose Matos, only appears on his death record. Agustina Carrillo Santiago (1765-1865) herself was unmarried. This is two generations of a female headed household. Besides Maria Ysabel, she had Julian Carrillo b. 1840 in Rio Grande, who later married Petronila Caraballo Hernandez bca. 1845.
Estevan Pinto Estrada was the widow of Toribia Perez, who died before 1860; his relatives also married Carrillos. Whether he was a partner to Agustina or a boarder in the home are questions that may never be answered. As Free People of Color they would have had access to the courts and to town councils, but still carried a liability as ultimately one could not transcend their class or condition. [Kinsbruner 38; 43-44] What more could I learn of their origins?
Losing Elders, Losing Family
The incredibly fragile pages from la Iglesia de Nuestra Señora del Carmen, Rio Grande of 15 May 1865 holds three deaths tied by blood and location. On the upper left is the record for Augustina Carrillo Santiago, and on the facing page, is that of Estevan Pinto Estrada. Below him is the record for Gregorio Carrillo, Agustina's grandson, the child of Julian Carrillo and Petronila Caraballo. None were able to accept the sacraments before dying, indicating a sudden death. There are more Carrillos and Pintos in adjacent pages listed in this volume of Entierros (Burials).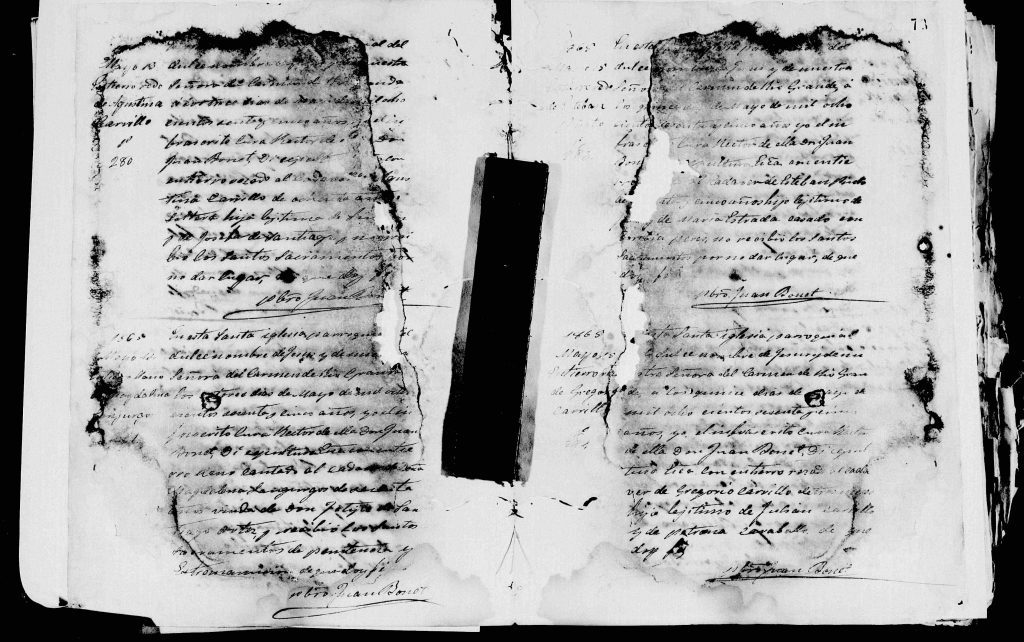 So far I have found no additional information on what took place whether a fire or epidemic took their lives. They are among my Afro-Indigenous ancestors, part of an ongoing ethnocide as the government ended the use of the term'Indio' and instead reduced them to colors, uncoupling any political recognition of the local from a longer, deeper history of living on Boriken.
I found Agustina in an 1827 baptism for Maria Nonanta Bartolome Robles at the Parroquia del Espiritu Santo y San Patricio of Loiza, Puerto Rico. On that date, both Agustina and her brother Pablo Carrillo served as godparents, and were identified as 'Morenos libres" or 'Free Coloreds'.
Conclusion
Maria Kreider's gift of sending me the 1860 Padron that listed Agustina and my second great grandfather Telesforo led me to my fifth great grandparents, Simon Carrillo and Josefa Santiago. who were probably born in the 1760s, in Loiza. From what I have seen, there are three clusters of families with the Carrillo surname in the early nineteenth century: Spanish emigres, Afro Indigenous creoles and African descended free and enslaved.
Among the oral history I heard, Catalina Carrillo, great granddaughter of Simon and Josefa maintained an altar, and included among the statues was the figure of an American Indian. However manifested, the woven syncretism of her belief system remembered Native ancestors, never forgotten as part of a local, spiritual sustenance. All of these layers are hidden behind the multiple descriptions and names of Telesforo Carrillo over the arc of his life.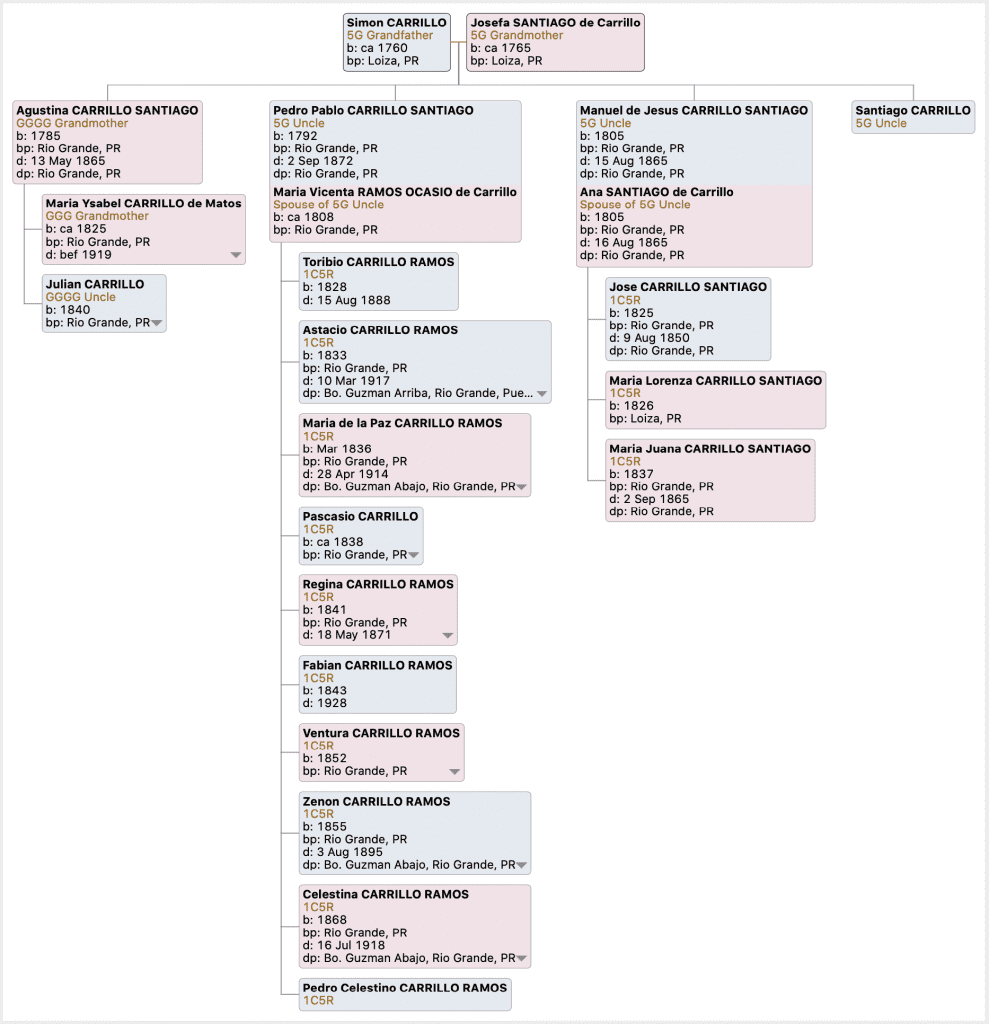 1 "Puerto Rico, registros parroquiales, 1645-1969", database with images, FamilySearch (https://familysearch.org/ark:/61903/1:1:QPY5-47DP : 9 April 2020), Andrea Maldonado in entry for Catalina Maldonado, 1862.
1 Wikipedia contributors, "Río Grande, Puerto Rico," Wikipedia, The Free Encyclopedia, https://en.wikipedia.org/w/index.php?title=R%C3%ADo_Grande,_Puerto_Rico&oldid=997405229 (accessed January 5, 2021). R%C3%ADo_Grande,_Puerto_Rico
"Puerto Rico, registros parroquiales, 1645-1969", database with images, FamilySearch (https://familysearch.org/ark:/61903/1:1:WG7D-392M : 9 April 2020), Esteban Pinto, 1865.
"Puerto Rico, registros parroquiales, 1645-1969", database with images, FamilySearch (https://familysearch.org/ark:/61903/1:1:W649-8WPZ : 14 November 2019), Josefa Santiago in entry for Agustina Carrillo, 1865.
Jay Kinsbruner, Not of Pure Blood: The Free People of Color and Racial Prejudice in Nineteenth Century Puerto Rico. Duke University Press, 1996.