ANUNCIÓS. El alcalde de la Moca ha participado al Excmo. Sr. Gobernador y Capitán General en oficio de 6 del corriente, que en la hacienda de Luis Masconabe, vecino de aquel partido; se ha aparecido un negro natural de Africa, de estatura baja, los dientes de la mandíbula superior apartados y altos podridos, en la inferior uno menos, varias rayas floreadas en el pecho, algunas cicatrices en el cuerpo y la espaldas, dice llamarse Basilio, que es lo único que sabe expresar en castellano, la nariz muy chata, boca y pies chicos, tiene al pie del labio inferior una cicatriz, casi imperceptible y de 20 a 25 años de edad. [1]
In November 1839 Basilio, a young African man, attempted to gain his freedom. Instead, he was imprisoned at a nearby hacienda in Moca until he was recovered by his enslaver. This announcement for Basilio ran over three days — November 26, 28 and 30 — in the pages of the official government newspaper, La Gazeta de Puerto Rico. The ad describes aspects of his physical appearance, intended to make it impossible for him to escape notice. 
According to the notice, a combination of forces were informed about Basilio . The search was authorized by highest ranks of local government, the Mayor, the Governor and Captain General. Why such a representative show of state power? Because he was one of many who decided to escape bondage in Puerto Rico during the 1830s.
Leaving the plantations
On 26 Jun 1838, Ramon Mendez de Arcaya wrote to the Third General Command (Comandancia General de 3er, Departamento Militar de la Isla) to inform them of the recent escapes of groups of five, six and seven enslaved men. They escaped by sea, from the beach Playa de Espinal on the coast of Aguada. Some lived in town without authorization, their enslavers unaware of their location. Mendez was sure they hadn't punished them for this. [2]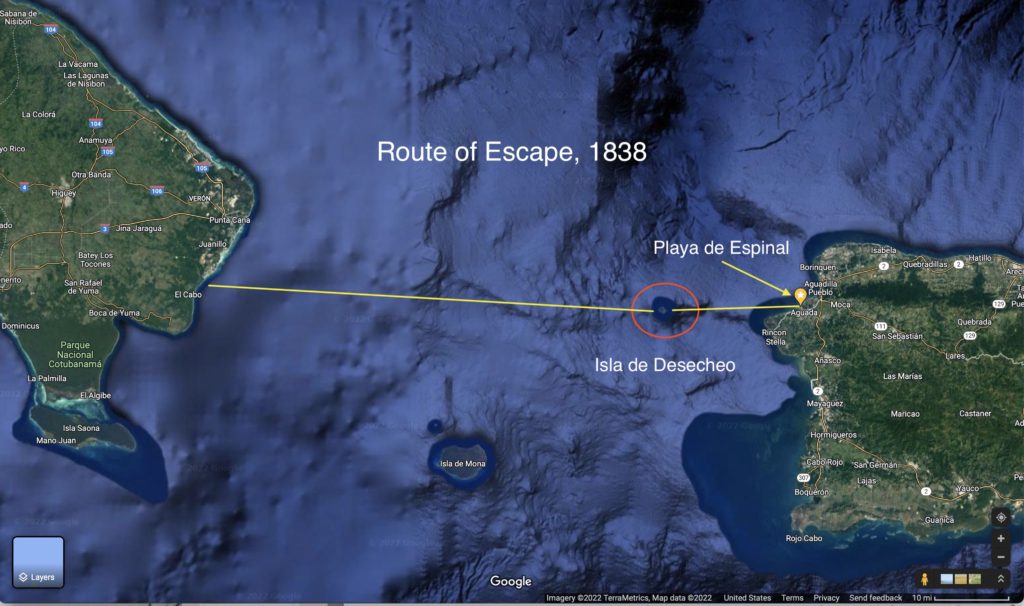 Moving late at night, they took some of the small boats and canoes to make their way for Santo Domingo, stopping at the small island of Desecheo off the coast of Mayaguez. One group's canoe failed, and they were picked up by a passing ship. This group he explained, went a distance to escape, as one was from much further away in Moca, and the others from Aguadilla. He suggested he would beef up his night patrols.
By 23 August a several page long notice, listing 12 heads of various military posts in the NW, outlined curfews, necessary permissions for those fishing by boat off the coast, and specified that no enslaved person would be permitted access to a ship or a town after 8PM. The penalty was a fine that doubled with each infraction. [ 3]
Trafficking & stealing freedom
On 26 November 1839, Luis Maisonave Duprey's Anuncio sat at the top of the notices. The second time it ran, it was preceded by notice of an African man, Silvestre, who escaped from the hacienda of D. Joaquin de Neyra in Loiza. Neyra promised that whoever captured Silvestre would be appropriately compensated. [4]
An announcement followed for an unnamed Black African man, 40 years old, apprehended in the mountains of Barrio Almirante, Vega Baja. He was sent to the prison in the presidio in San Juan until his enslaver could retrieve him.
Next, is a notice for don Julian Garcia's desire to purchase an enslaved Black or mulatto child, alive and without defects. After the lost horse and the offer of all kinds of black silk by hat maker Nicolas Martin, comes a notice about an enslaved man imprisoned since the end of July. Juan Jose Alvarez, 34, an enslaved mulatto man from Fajardo, was also sent to the prison in the presidio in San Juan. As with Basilio and Silvestre, the power of the Governor, Captain General and the Mayor were disposed to this arrangement, and note that "the announcement in the Gazette about their capture was so the news reached the owner and he could formally obtain them."[5]
Above Maisonave's Anuncio for 28 November, was a reissued public notice from the War Court on the upcoming sale of the enslaved man Francisco on the morning of 2 December, at the doors of the Auditor General's office in San Juan. Beneath the remainder of the Anuncio, there's a request for teachers for an elementary school in Guayama for both boys and girls.
After the appeal for teachers, interested parties should ask the female enslaver about the sale of a Black boy 8-9 years old and a Black girl 14-15 years old, via the Gazeta's office. An estancia for sale in Bayamon and finally, offered for sale is a young Black woman with her newborn. The ad notes her milk is good and abundant, and with her knowledge of cooking, washing and ironing her price is 400 pesos. No names are given, just an address, Calle de los Cuarteles 32, the barracks just beyond the Presidio, an older building that precedes the massive structure built in 1854 that still stands today. These are such brief glimpses of lives processed by a range of institutions that happen to ignore an essential humanity when money is at stake. [6]
Who was Basilio?
Born in Africa between 1814-1819 as he was 20-25 years of age, Basilio was short man. He is described as having a small mouth, small feet and a very flat nose. Given his age he may have worked some of the most labor intensive aspects of the plantation he escaped from. Conditions were enough for him to decide to chance his freedom.
While the skin of his trunk and shoulders were covered with scars, his chest bore 'varias rayas floreadas' a pattern of stripes. This was the result of a coming of age ceremony somewhere in West or Sub-Saharan Africa before his capture. His 'rayas floreadas' literally 'flowering stripes' were an elaborate pattern that may have combined lines with raised scars to create an effect of rows ready to blossom across his chest, rather than a geometric pattern. These country marks were a feature that would enable a group to read and recognize their relationship. The use of ritual scarification increased as a result of raiding peoples for the slave trade. [7]
The description of his scars may outline a hierarchy of control, with the scars on his trunk and shoulders likely scarred by inflicted violence. These scars come after mention of those marks that visually identified Basilio as part of a community, perhaps recognizable to other African-born people enslaved on the hacienda. Some probably helped him make his way towards Playa del Espinal in Aguada, to find a way out of his situation before he was caught in Moca.
The announcement mentioned that his lower lip bore a smaller scar, almost faint, and difficult to see unless he was examined closely. The notice is an invitation to go beyond the clothes and orifices to compare the details. Was this scar the trace of an injury? Is this something his enslaver would recall? His teeth were broken, some were missing and others went bad, all testament to his treatment as he came to adulthood. Was he smuggled into Puerto Rico? And for language, the only word of Castillian that Basilio knew was his name, Basilio.
Where was he from? What was his fate that December 1839?
[1] Gazeta de Puerto-Rico. [volume] ([San Juan, P.R.), 26 Nov. 1839 Page 567 image 3. Chronicling America: Historic American Newspapers. Lib. of Congress. <https://chroniclingamerica.loc.gov/lccn/2013201074/1839-11-26/ed-1/seq-3/>
[2] "III.1 Ramon Mendez, Comandancia General del 3er, Departamento Militar de la Isla, 26 Jul 1848." Benjamin Nistal Moret, Esclavos Profugos y Cimarrones, Puerto Rico, 1770-1870. Editorial UPR, 1984, 233-234.
[3]"Excelentismo Senor Don Miguel Lopez de Banos, Gobernador y Captian General de esta Isla, 23 Aug 1838." Benjamin Nistal Moret, Esclavos Profugos y Cimarrones, Puerto Rico, 1770-1870. Editorial UPR, 1984, AGPR, RSGPR, E.23, B.64 (editado), 234-238.
[4] Gazeta de Puerto-Rico. [volume] ([San Juan, P.R.), 26 Nov. 1839 Page 567 image 3. Chronicling America: Historic American Newspapers. Lib. of Congress. <https://chroniclingamerica.loc.gov/lccn/2013201074/1839-11-26/ed-1/seq-3/>
[5] Gazeta de Puerto-Rico. [volume] ([San Juan, P.R.), 30 Nov. 1839. Page 576 image 4 Chronicling America: Historic American Newspapers. Lib. of Congress. <https://chroniclingamerica.loc.gov/lccn/2013201074/1839-11-30/ed-1/seq-4/>
[6] Gazeta de Puerto-Rico. [volume] ([San Juan, P.R.), 28 Nov. 1839 Page 572 image 4. Chronicling America: Historic American Newspapers. Lib. of Congress. <https://chroniclingamerica.loc.gov/lccn/2013201074/1839-11-28/ed-1/seq-4/>
[7] Lauren Cullivan, "The Meanings Behind the Marks: Scarification and the People of Wa" (1998). African Diaspora ISPs. Paper 4. 16. http://digitalcollections.sit.edu/african_diaspora_isp/4