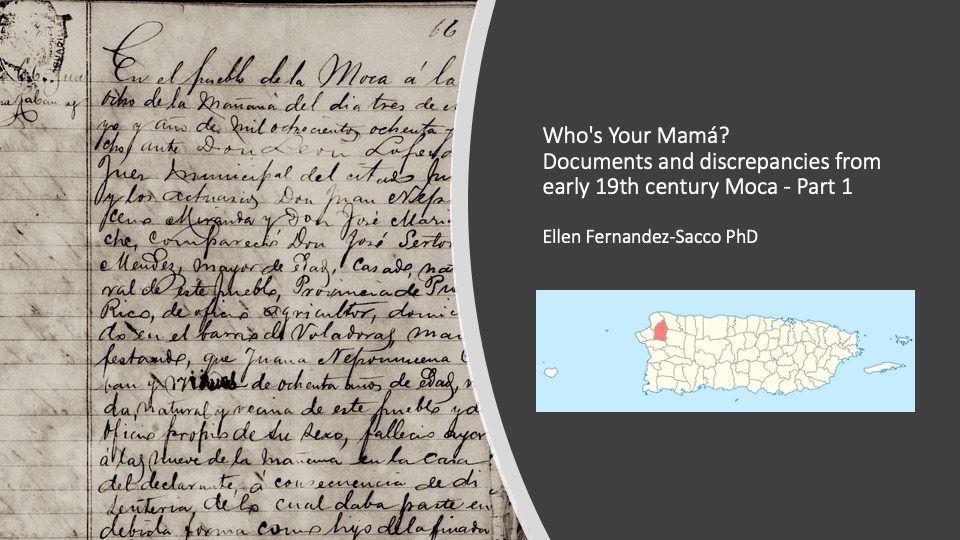 This blog post is the first of a 3 part case study that shows a process of resolving name discrepancies. The sections offer Part 1: An overview , Part 2: Dealing with data and then Part 3: Making sense of the bits — gleaning details and pulling it together.
Part One: An Overview
Today, searching for ancestor matches with DNA cousins involves a more intensive use of records that predate 1885. That's before the 1910 census and the Civil Registration, which began in Puerto Rico in 1885. Various documents cover births, marriages and deaths, three major life events marked by ritual and documents.
Categories, gender, vital documents
First, think about the ways that gender roles and social expectations can shape the information in these documents. 19th-20th C PR society was stratified, meaning that privilege came with white male property holder status at the top. This wasn't guaranteed. Status could shift over time, often in response to changes in law and downturns in the economy. And it wasn't just men. Note that women could own and inherit land and run businesses, so they too may appear in more documents.
Life changed in significant ways in the hundred years between 1800-1900. With enough information we may learn why a family's fortune rose and fell over time. Some recently freed were able to purchase land and property. Yet laws that limited the ability of people to purchase property increased later in the century. This wasn't necessarily linked to illiteracy, for in Moca, POC had higher rates of literacy in a largely illiterate society.[2] When tracing formerly enslaved ancestors one needs to review many kinds of documents to see where they may be mentioned.
Ultimately, many different ancestries blended on the island. Still, there can be problems in tracing descent along maternal lines, particularly if one is just focusing on male heads of household. There were many female headed households among African or Afro-Indigenous descended families. Laws enforced the use of single surnames and descriptive terms of color to distinguish free and unfree people from those in power.
Names can change over time. Among the reasons people changed surnames was as a result of parents remarrying, or to recognize paternity by using their father's surname as a maternal surname. Some simply used a maternal surname to have another identity. You maybe able to find out why and add that story to your family history.
Knowing Where to Go Next
To all of these reasons for potential variations in sources, add the gaps in record sets. A range of techniques is needed to solve these riddles of identity and complete a reasonably exhaustive search.
One helpful book for determining the range of extant records for parishes across the island is Rodriguez-Leon OP's La Microdemografica Parroquial de Puerto Rico. [1] Access to these records can vary. Some are microfilmed and while some parishes have refused the filming of their records, there is an effort underway to digitize and centralize records through the Archivo Diocesano in San Juan, and the SPG (Sociedad Puertorriquena de Genealogia) has transcriptions and books available for members (and some transcriptions for non-members).
Four parishes did not film their archives in the late 1980- early 1990s project by the LDS, yet several related sets of parish and municipal were uploaded to the FamilySearch.org site. They've reorganized the search page. Scroll down. Note how the database now clusters related resources beneath the search panel. Look at surrounding municipalities as they may have relatives there as well.
Protestant records begin after the Spanish American War. As I'm going to discuss the early to late nineteenth centuries, parish records will be for the Catholic Church, supplemented by available notarial documents. Next, to consider an 1888 death record for Juana Nepomucena Caban who died age 80 in Moca.
[1] Mario A. Rodriguez-Leon OP's Los Registros Parroquiales y La Microdemografica Parroquial de Puerto Rico. Centro de Estudios Avanzados, San Juan, PR 1986.
[2] Antonio Nieves Mendez, Historia de un pueblo: Moca 1772 al 2000. 2008, Lulu.com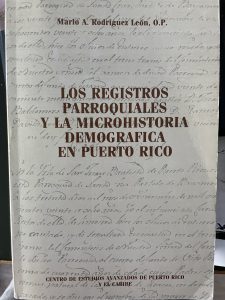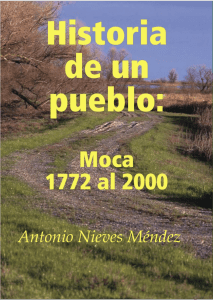 2/3 – Part 2: https://latinogenealogyandbeyond.com/blog/whos-your-mama-documents-and-discrepancies-from-early-19th-century-moca—part-2/ (opens in a new tab)