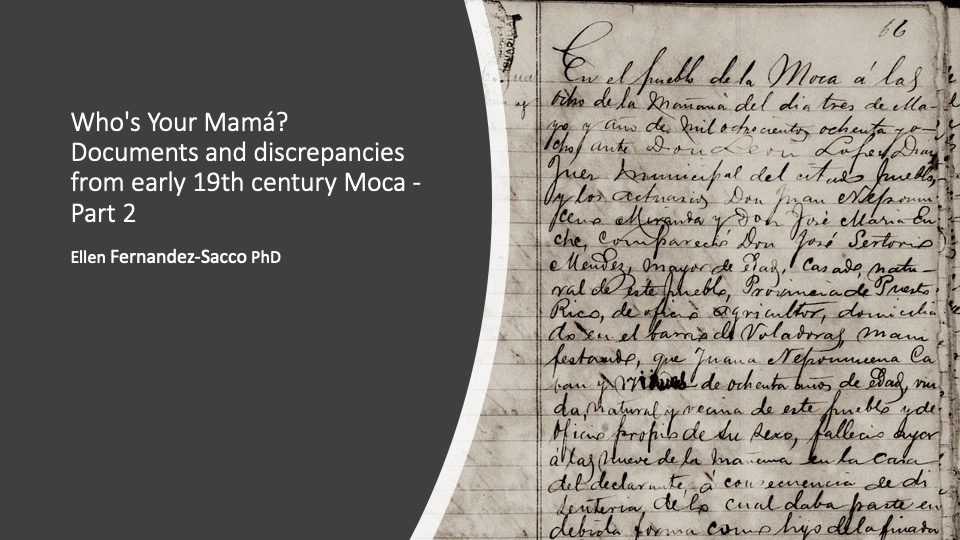 Part 2: How to sort through data: Context
In this post, I'll provide the context of a death record for Juana Nepomucena Caban as we start to unpack what appears in this 1888 Acta de Defuncion. Ultimately whatever information is collected, consider it together with any available documentation as you work your way to earlier generations.
Since one document leads to another, the civil registration can be tied to parish records, municipal documents, census, passports, etc. The information these contain, taken together can demonstrate some of the principles of the Genealogical Proof Standard, by examples in the next post. What details can a document provide to help understand an ancestor's past?
We'll start with the death certificate, an Acta de Defuncion created just three years after the Registro Civil begins. Will that document establish who are the parents of Juana Nepomuceno Caban of Moca, Puerto Rico?
Context: The Who & Where of Juana Nepomucena Caban's Death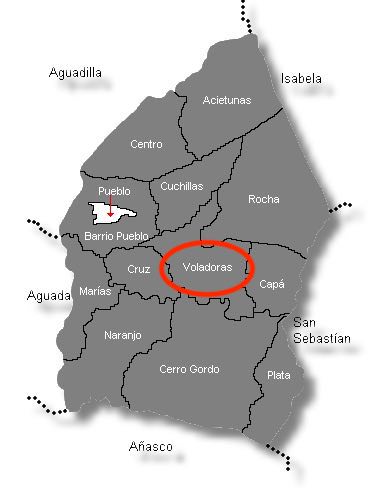 Early in the morning of 3 May 1888, Jose Sertoris Mendez Caban, a married farmer born in Moca, left Barrio Voladoras and went to the pueblo to report the death of his eighty year old mother, Juana Nepomucena Caban.  At 8AM, before the municipal judge Leon Lopez Diaz, and Juan Nepomuceno Miranda and Jose Maria Euche, the judge's two agents, or actuarios, Jose Sertoris Mendez gave the committee her cause of death, the names of his father and 13 siblings. Locals Avelino Miranda and Jose Cosme Lopez, 'cigarrero y el segundo panadero' ('cigarette maker and the second, bread maker') served as witnesses along with Jose Quinones, panadero, and Jose F Maldonado, comerciante (businessman).
This offers a glimpse of the local community in Barrio Pueblo at the time. Often, many of the people mentioned are related, with ties to land, local production or commerce, revealed with further research. In the late 18th-early 20th centuries, Barrio Voladoras was a rural area with farms and plantations that provided subsistence crops in addition to luxury crops such as coffee and sugar.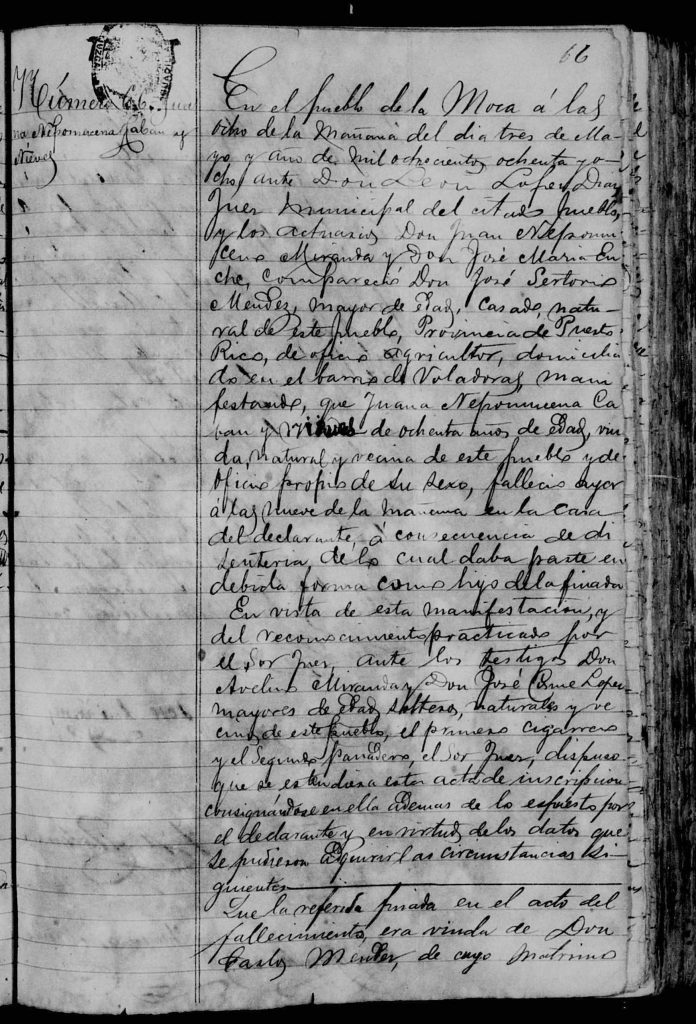 Juana Nepomucena Caban's parents aren't mentioned. The details in this document help outline her family, and leave significant questions about her parents.  Even the inked over surname seems to suggest doubt. Why didn't Jose Sertoris mention his grandparents?
This is information that can change the ancestors that connect, and provide previously unknown branches as many learn via DNA cousin matches. With Puerto Rico's high degree of endogamy, documents can offer clues to chart the connection, and if available, oral history may help to confirm details. Regardless, missing documents can leave one grateful that an ancestor made it into the Registro Civil, which starts in 1885.
If a family had resources, there's a higher likelihood of locating them in notarial documents (wills, rental arrangements, land sales, enslavement, etc) newspapers (Library of Congress) or dispensations (dispensas) at the Archivo Diocesano in San Juan.  Some digitized series and transcriptions are available. These ancestors may be mentioned even if they were not the parties who filed for the documents with the local notary.
Microfilm Sources
When working with record sets and transcriptions, one wants to have access to original records, but the next best thing is microfilm.  Currently, the largest collection of documents on microfilm is on FamilySearch.
There are some problems seeing original primary documents in Puerto Rico: many parish records aren't readily accessible, trying to make appointments at the Archivo General de Puerto Rico or Special Collections at UPR or InterAmericana in a pandemic for starters., Next are the significant gaps for some early nineteenth century records.
There's a heavy reliance on transcriptions because of restrictions on other record sets such as notarial records. Unlike other countries, notarial documents have no expiration date in Puerto Rico. As the original documents disappear, transcriptions then become primary sources. That digitized microfilm may be the only copy of records that survived fire, weather, insects and heat over the centuries. It's still better than having no sources at all.
You'll want to keep track of your sources so any conflicting information can be traced back, and know its source to avoid repeating an error in the future.
Basically, researching involves cross referencing the information in records, tracking children and tracing collateral lines. Broadening the family tree has the potential to yield some answers, especially when there are several lines with the same surname in an area. In this case, Caban is a surname in NW Puerto Rico that has clusters in Aguada, Moca, Aguadilla and Isabela, made up of different families.
Identity, Names, Surnames
Born in Moca, a municipality in northwest Puerto Rico sometime during the early 1800s, Juana Nepomucena Caban lived through the island's social and economic shifts. Over the eight decades of her long life, the farms that produced for subsistence and some luxury crops for export, shifted to the rise of coffee and larger sugar plantations . We can glean several facts from her death record of 1888, which i'll list in the next post.
In the pages of the Registro Civil for Moca, Juana Nepomucena Caban appears as Caban Nieves in her death certificate– but is her maternal surname correct?
Given that there are several Caban lines across the northwest that can differ in terms of ethnicity, endogamy and/or origin, confirm identity with as many sources as possible. As errors do appear in official documents, earlier records may confirm her maternal line. Closer relatives can provide more details than say, a neighbor sent to register a birth or death. Sometimes the relationship is not mentioned, but becomes apparent as you build your tree.
Secondary sources: sometimes it's the only resource
In this document, the 1888 information can be compared with a transcribed 1859 baptismal record for her son, Gregorio Mendez Caban. In it, Gregorio's maternal grandmother, (Juana Nepomucena's mother), is simply identified as Juana Hernandez, wife of Juan Caban— not Juana Nieves.
In fact, thanks to transcriptions by a Sociedad Ancestro Mocanos member Rosalma Mendez, information on another daughter, Zenaida, also lists a variation in an early baptism record. Since this is a transcription of an earlier document, it's a reason to keep searching and find additional records to confirm her parents identities. More on this in the next post.
Naming patterns: clues in variations
What about Juana Nepomucena Caban's given name? She can appear in records as Juana, Juana Nepomucena, or simply as Nepomucena, the female version of the name for Saint Juan Nepomuceno. Tracking name variations is helpful for searching. These can include middle names or even apodos, the nicknames used on a daily basis. At times a nickname appears in a record or oral history. First names can repeat in family naming patterns and offer another clue to follow.
2/4 – On to Part 3…
https://latinogenealogyandbeyond.com/blog/whos-your-mama-documents-and-discrepancies-from-early-19th-century-moca-part-3/